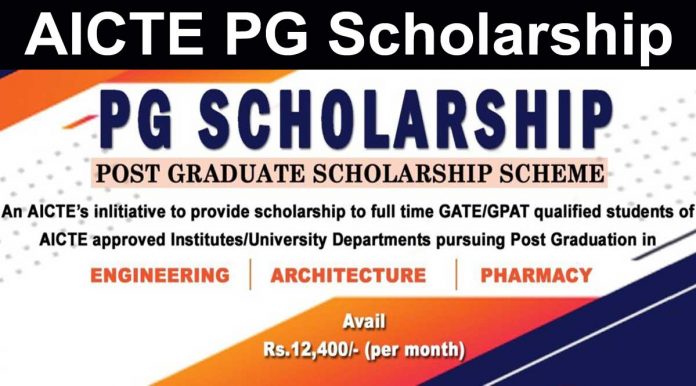 AICTE Scholarship for Engineering students 2021: Hey guys, today in this article we will discuss with you the important details about the PG Scholarships given by AICTE to the students. These scholarships are offered by the department to encourage students for higher education.
Here, we will explain about the type of scholarship, how to apply for the scholarship, eligibility of the scholarship and how much scholarship is given to the PG students. To be eligible for the AICTE PG Scholarship, one should be GATE qualified.
Read Also: National Scholarship Portal
About AICTE PG Scholarship
AICTE PG Scholarship 2021: All India Council of Technical Education (AICTE) offers PG Scholarship to deserving students on the basis of their GATE score. This scholarship will help financially weak students in continuing their higher studies in technical courses.
It is a monthly scholarship offered to the students pursuing regular Post Graduation degree in AICTE approved institutes. GATE qualified students will get a AICTE PG Scholarship of Rs. 12,400 per month for two years.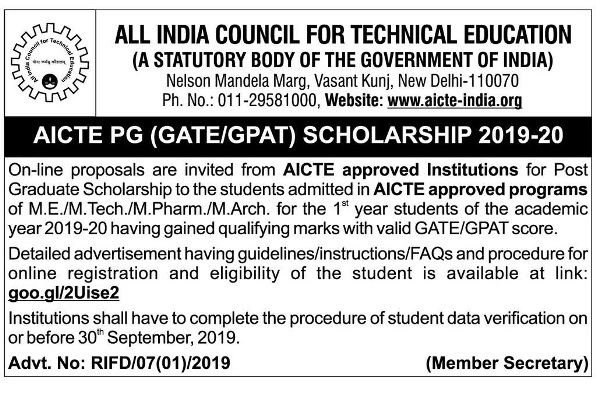 Read Also: AICTE Scholarship for girl students
What is full form of AICTE?
AICTE stands for All India Council for Technical Education. It is an autonomous body to regularize technical education course in India. AICTE also gives grading to the technical institutes in India.
Eligibility Criteria of AICTE PG Scholarship 2021
To be eligible for the AICTE PG Scholarship, one has to fulfill the following requirements:
Student should have taken admission in any AICTE approved institute.
Student should have a valid GATE/GPAT Score.
Only GATE qualified students are eligible for this AICTE PG Scholarship.
Read Also: AICTE Scholarship for specially abled students
Documents required for AICTE PG Scholarship
For getting AICTE GATE/GPAT Scholarship, one should be GATE/GPAT qualified and should have taken admission in respective PG course in AICTE approved institution. Mainly following documents are required to apply for AICTE PG Scholarship:
GATE score card
Proof of admission in college for PG course such as M.E./M.TECH.
Bank account details for direct transfer of funds in student's account
Aadhar card
PAN card
PG course roll number
Passport size photos
How much scholarship is given under AICTE PG Scholarship scheme?
GATE/GPAT Scholarship amount: In this scholarship scheme a stipend of Rs. 12,400 per month is given to the students for a period of 2 years i.e. duration of the PG course. Generally the duration of almost all the technical PG courses such as M.E. OR M. TECH. is 2 years.
For getting this scholarship student should have good attendance record in the institution. Attendance record of students is frequently updated from the college administration to the AICTE portal.
AICTE PG Scholarship Exam 2021
AICTE Scholarship Quora: There is no separate exam for getting short listed for AICTE PG Scholarship. All the students who are GATE/GPAT qualified, are eligible for the scholarship once they get in PG course on regular basis.
AICTE Approved Colleges
If you want to get details about the AICTE approved colleges, then we will provide you the direct link to get List of AICTE Approved Colleges here. Because AICTE gives scholarship only to students who are studying in AICTE approved institutions.
Direct link to get List of AICTE approved colleges
What is AICTE ATAL?
AICTE ATAL is a AICTE Training And Learning Academy. It is established for giving faculty learning programs throughout the country. It has started giving training to CBSE teachers in two areas Artificial Intelligence and Robotics. It will help the CBSE faculties to get a bit of technical knowledge which will be beneficial in today's advanced technology world.
AICTE Internship Portal
What is AICTE Internship portal? It is a specified portal run by AICTE to help students get best internship details online. Here one can get list of internship offering according to their preferred cities. The direct link to visit the official AICTE internship portal is given below.
Link for AICTE Official internship portal
Last date to apply for AICTE PG scholarship
Last date to apply for AICTE PG Scholarship for academic year 2020-21 was 15 December 2020.
GATE scholarship for Ph.D.
Scholarships for Ph.D. are offered by CSIR in technical courses. AICTE is responsible only for UG and PG courses. If you want to get scholarship in Ph.D., then go to the CSIR portal and get the desired details.