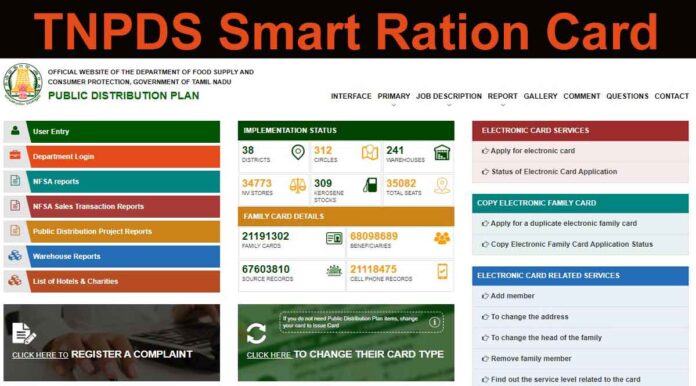 TNPDS Smart Ration Card Status 2021: Hello readers, today we are going to discuss about Tamilnadu Government's new digital ration card scheme. Tamilnadu govt has decided to upgrade its old ration cards with new digital ration cards. It will have a lot of benefits over the conventional ration cards. This will make the Public Distribution System more transparent as compared to the previous one. Funds released from the govt will reach the beneficiaries without any intermediate corruption by the officials and distributers.
Tamil Nadu Free Laptop Scheme 2021 Registration
TNPDS Portal 2021
If you want to get every detail about TNPDS Ration card scheme, then you are at the right place. All the details like online application, registration, status of ration card, family member update, ration card change etc. are given in this article.
Highlights of TNPDS (Tamil Nadu Public Distribution System)
| | |
| --- | --- |
| Name | TNPDS (Tamil Nadu Public Distribution Service) |
| Scheme Type | State Government |
| Launched By | Public Distribution Service (Tamil Nadu) |
| Beneficiary | People of Tamil Nadu |
| Application Mode | Online |
| Post Category | TAMIL NADU GOVERNMENT SCHEMES |
| Official Website | www.tnpds.gov.in |
Documents required for TNPDS:
List of documents required for TNPDS ration card is given below.
Aadhar card of the applicant
PAN card
Family Income certificate
Resident certificate of the state
Recent passport size photo
caste certificate
Electricity bills
Online Apply for Electronic Ration Card
To apply for the TNPDS digital ration card, you have to visit the official website of TNPDS portal.
Direct link of the official website for applying new ration card is given below:
Click here to apply for electronic card
Once you visit this new registration page you will see a screen like shown in image below.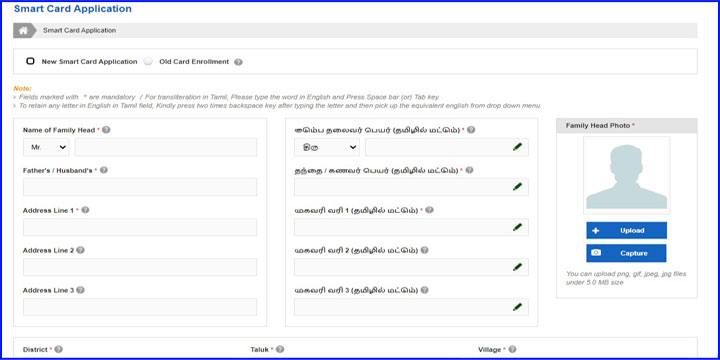 Here please fill the following details for the card in both the languages i.e. English and Tamil :
Name of the family head in English and Tamil
Father's / Husband's
Complete address of your residence
Upload Family head's photo
Select your District, Zone/Circle, Village from the drop down menu
Fill in your postal code, mobile number and email id
After this fill in complete details of your family members
Then select the type of card which you want to apply for
Attatch a copy of proof of residence
If you have a gas connection then tick in the box given there
Recheck your all details filled above. If all the details are filled correctly then tick in the confirmation box and click on REGISTER button.
Smart Card Application Status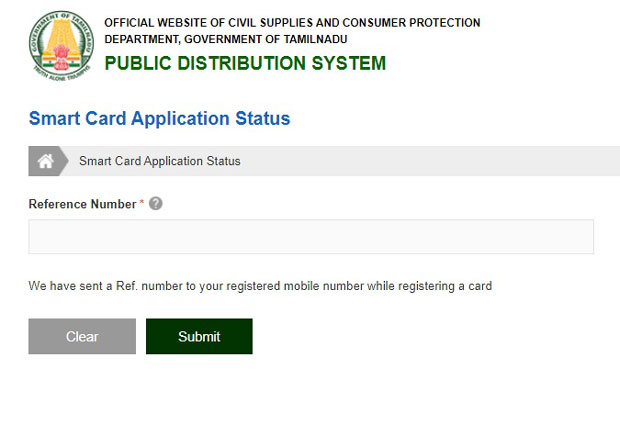 Status of Electronic Ration card Application
After clicking on this, please enter the reference number sent to your registered mobile number at the time of online registration for TNPDS ration card scheme. After this click on REGISTER button and you will get your ration card status.
Apply for a duplicate electronic family card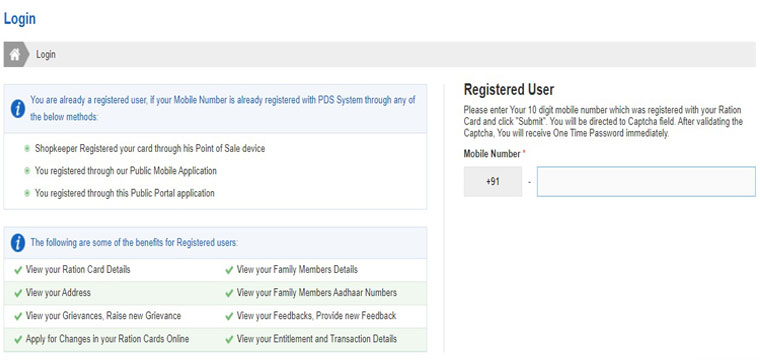 If you have already registered yourself for the electronic family card and you want a duplicate card. in that case click on the below given link and get your ration card.
Link for a duplicate electronic family card
Click on the above link. Enter here your registered mobile number followed by the captcha code and click on register it.
Copy electronic family card application status
If you want to copy the status of your electronic family card, then click on the following link
Link to copy the status of electronic family card
Once you visit this page, login here with your registered mobile number and get the family card status.
Other services related to electronic family card
Once you registered yourself with the TNPDS ration card portal online, then you can make necessary changes in your family details online without visiting the government offices. The online services offered on the portal are as under:
Add member: Here you can add new member in the family card online.
Change Address: In case your family shifts from one place to another, then you can update your new address in the ration card online.
Change head of the family: In case your family head expires or for any other reason you want to change the head of the family, then also you can do this yourself online.
Remove family member: If someone died in your family or your joint family want to convert in to nuclear family, then also you can remove family members from the card online.
Service related to the card: if you want any other service related to the electronic family card, this can also be done on this portal.
For all these above explained services click here.
TNPDS App Free Download:
Tamilnadu Govt has launched a dedicated app for the smooth and easy functioning of the TNPDS portal. To download the Android app of TNPDS click on this link.
Conclusion
We have provided almost every detail about the Tamil Nadu Public Distribution Scheme Electronic ration cards. We hope this article will be helpful for you. In case you have any doubt about this, then you can contanct the official helpline numbers given below and you can write email to Food supply and consumer protection department, Govt. of Tamilnadu.
Helpline Toll Free Contact Numbers: 1967 and 18004255901
Email id : [email protected]
Read Also: Know, How can I check my Patta Chitta in Tamilnadu?