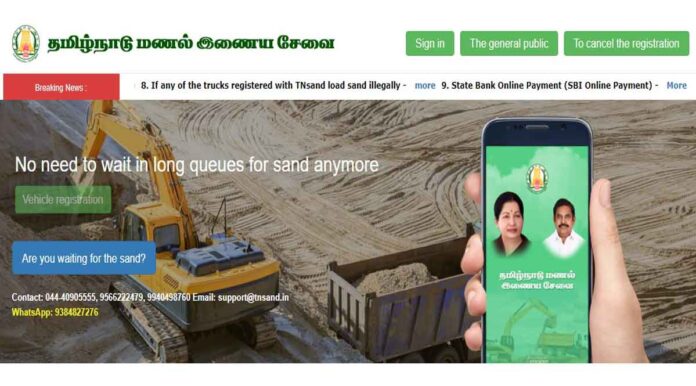 TNsand Portal 2021: In today's world digitization of things is taking place day by day. Govt of India along with state governments is trying to increase online services for the people. TNsand is an online portal launched by the Govt of Tamilnadu to facilitate the people of state in taking sand through a specified online platform. Now, you don't need to wait in long queues for getting sand in Tamilnadu. Here you can online book your sand requirement.
If you own a commercial vehicle, then you can register your vehicle on this portal for online booking for your vehicle (வாகன பதிவு).
Patta Chitta Status Tamil Nadu
Key Highlights of TNsand Portal
| | |
| --- | --- |
| Name | PWD TNsand |
| Launched by | State Government of Tamil Nadu |
| Department | PWD (Public Work Department) |
| Beneficiaries | Residents of the state |
| Service | New booking, status, move order, request refund, vehicle list, refund status, payment verification |
| Official portal | tnsand.in |
TNsand application form: In this article we will share with you every detail about this TNsand portal like how to get registered on TNsand Portal, application form, registration status, new booking, booking status, move order, request refund, refund status, vehicle status, payment verification vehicle list etc.
New booking on TNsand Portal:
TNsand Registration: To book sand online, you have to make a new booking on this portal. Steps for making a new sand booking on TNsand booking online click on the below link
Link for online booking of sand
After visiting this link fill the details related to your order such as Quarry (place from where you want sand), Lorry number, Axle (single axle or multi axle), unit, customer name, mobile number, Address, city/taluk/village, district and Pin code.
After filling all these details fill the captcha code and click on CREATE BOOKING.
Once you complete your booking, you will receive a booking reference number on your registered mobile number for your future reference. Using this booking reference number you can check status of your booking and track your booking also.
How to check status of booking:
TNsand registration status: If you have booked a sand order online and you have not received the order till now. Then you can track your sand order online.
To check the status of sand ordered on TNsand portal Click Here.
After this enter the booking reference number received on your registered mobile number or the vehicle number you have selected at the time of booking. Enter the captcha code and click on search.
Now you will get the search results. Select your booking and status of you booking is on your screen.
How to request refund of sand booking on TNsand:
If you have already ordered sand on TNsand website, and you want to request your refund then click on the below link to request your refund.
Link for requesting refund on TNsand portal
Enter your order reference number and proceed further for your refund.
Vehicle list of TNsand portal
There are a limited number of vehicle registered on TNsand portal. If you want to order sand online in Tamilnadu, then you have to select vehicle from the list given on official website. Here we have given the direct link to get list of vehicles registered on official TNsand website. Direct link to get vehicle list districtwise is given below:
Link for list of registered vehicles on TNsand portal
Here you have to select you district and you will get a pdf of registered vehicles for your district. Contact with the vehicle owners through mobile numbers given in the list.
Similarly you can check your refund status and do payment verification online also. The link for both these is here.
TNsand online payment details: Link for Payment Verification
TNPDS Smart Ration Card Status
TNsand App Download
How to download TNsand app: Govt has also launched mobile app for online booking of sand in Tamilnadu. To get mobile apps of TNsand, visit the official website of TNsand.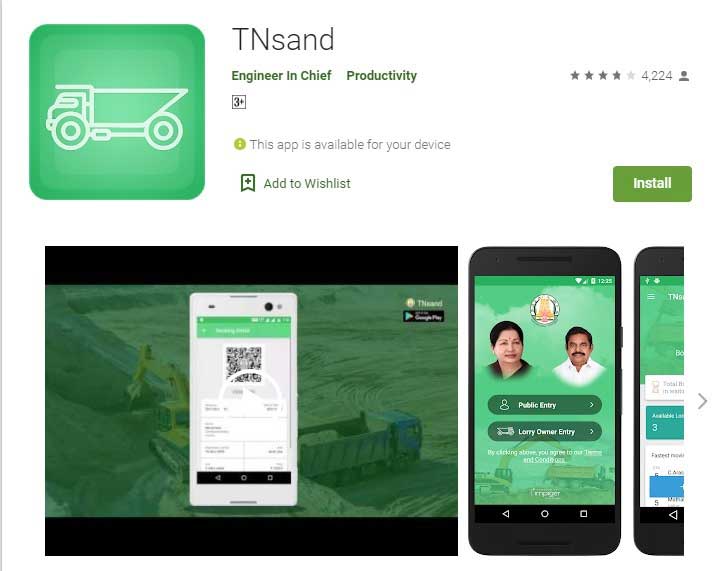 Click on Get it on Google Play for Android app and Available on App Store for iOS app. Or you can directly Click on the below given link and get your app.
TNSAND Booking Helpline Numbers:-
Contact Number: 044-40905555, 9566222479, 9940498760
Email: [email protected], Whats-app: 9384827276